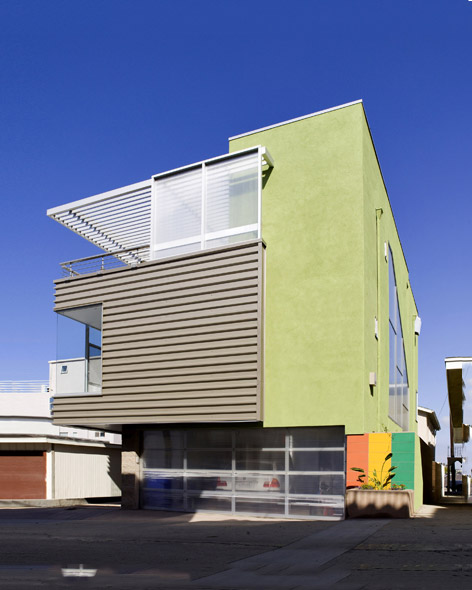 143 First Court | Hermosa Beach | 90254
Architecture: Robert Nebolon Architects
Built 2007; 3 bedroom, 2.5 bath, 1850 square feet
An active family of 4 approached the architect with one condition: Design a 3 bedroom/2 bath house on a teeny tiny 30'x47' lot to suit their beach lifestyle. The architect designed a house which would be responsive to the particulars of the site and climate, as well as capturing the quintessential casual Southern California beach lifestyle in architectural form and color.
The resulting multi-story tower-like structure is sheathed with pre-finished metal panels and stucco, both well-suited for long life in a marine climate, and punctuated by brightly colored glazed concrete block walls. The living room and the kitchen are placed on the top level with huge windows to let in the sunshine yet protect one from the cool sea-breeze when desired, and have access to a large terrace under a dramatically cantilevered aluminum trellis. The entire top floor is bright and open with warm interior finishes reminiscent of Eichler Homes to contrast with sleek exterior materials reminiscent of Case Study Houses. The roof terrace features a large planting bed as well as views of the entire South Bay and the Palos Verdes Peninsula.
The house sports an incredible daylit stairway which becomes not only the main path of motion vertically between the floors, but is also the very heart of this little tower house. The floating open stair rises up through the building, passes beside the big translucent polycarbonate window, and is crowned by a large skylight. The ascent is exhilarating as one makes their way up to the main rooms on the top floor. The open stair visually connects all floors in one big grand gesture while also acting as the natural cooling chimney as the skylight is thermostatically operated to open to vent the entire house.
The house has been featured in the Los Angeles Times, GreenSource Magazine, and is the recipient of the AIA California Council/CMACN design award. The house is featured in "Architecture of Low Energy" ISBN : 9787214075178, a book of contemporary architecture from all over the world.
Photography by David Duncan Livingston