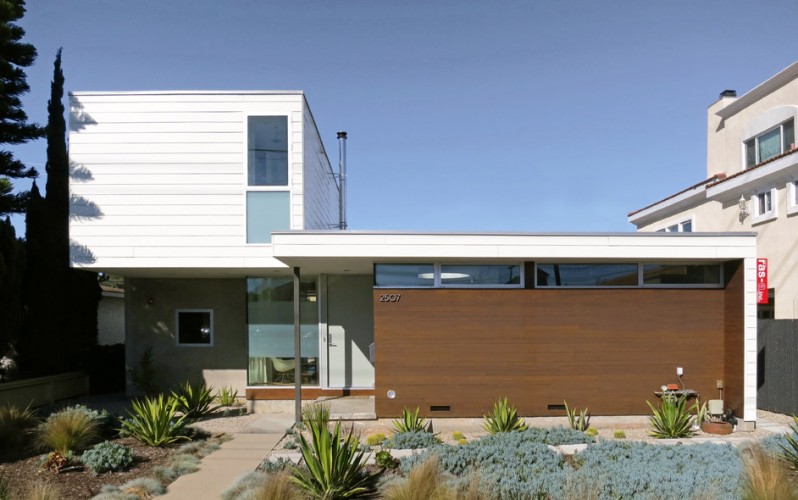 2507 190th St. | Redondo Beach | 90278
Architecture: ras-a, inc.
Built 2008; 3 bedroom, 2 bath, 1,500 square feet
Located in Redondo Beach, the p_House is a transformation of a small post war house into a modern live/work home for a young professional. Due to budget constraints as well as environmental regard, the original house was recycled as much as possible (in lieu of scraping the whole thing and building from scratch). The existing foundation was kept intact as well as the majority of external framing. Keeping to the original footprint lowered construction costs and allowed the project to bypass local zoning regulations required for new construction.
The challenge was making the small house feel larger without growing the house horizontally. The majority of interior walls were removed or relocated; allowing the living, kitchen, and dining area to be one fluid space. A fourteen foot wide sliding glass door pockets out of site, extending the space outside to a revamped back yard and swimming pool. This outdoor living area becomes the focal point of the new design, while making the modest size of the interior feel more expansive. A bedroom, a bathroom, and the one car garage are the only rooms that keep their original location. A design studio with it's own entrance replaces a third bedroom and the old kitchen. The master suite is relocated to a new second story addition which cantilevers over the one car garage below creating additional covered parking. It's slim form allows the midday sun to shine over the main floor and onto the pool and outdoor living area. The use of clerestory windows on the south elevatio n prevent views of the busy street, while still bringing in breezes and framing the tops of nearby palm trees. The north elevation, which faces the back yard and pool, has floor to ceiling windows providing the interior with an abundance of diffused natural light. The open tread stairwell acts like a thermal chimney sucking warm air through out the house and ventilating it outside through operable windows at the upper level. High solar reflective roofing, light colored cement board siding, and a well insulated building envelope add to the passive solar design. This along with the use of high efficiency ceiling fans, eliminates the need for A/C. A clean burning modern stove reduces heating loads during the colder months. Other sustainable building materials and methods used include a tankless water heater, FSC certified cedar, low V.O.C. paints, bamboo flooring, and xeriscaped yards.