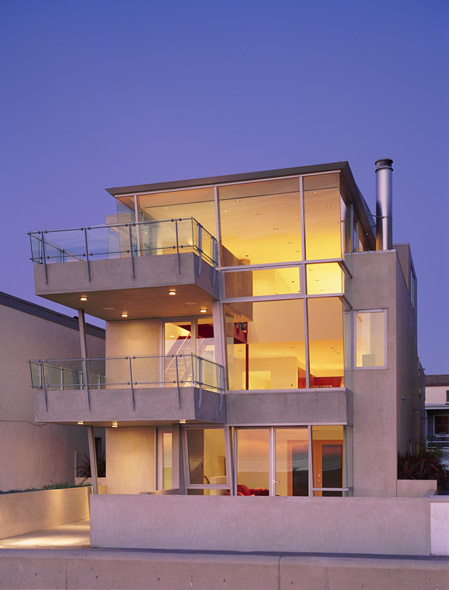 718 The Strand | Hermosa Beach | 90254
Architecture: Dean Nota Architect
Built 2000; 2 bedroom, 4 bath, 3,000 square feet
Site
The site is a thirty by eighty foot slice of ocean front sand located in Hermosa Beach, a one mile square, California seaside city, at the western edge of metropolitan Los Angeles. The long axis of the site is bounded by adjacent residential structures on the north and south. A pedestrian path known as The Strand borders the beach to the west and a street provides automobile access from the east. The dominant physical characteristic of the site is the view of the beach and ocean which is framed by the Hermosa Beach Pier to the north and the Palos Verdes Peninsula and Santa Catalina Island to the south. This site resides at an urban edge in transition, where a dense fabric of older, unremarkable structures must coexist with larger more contemporary dwellings.
Program
The Client required a house for one or two people and occasional guests, organized to allow for a public, social interaction with the Strand and the Beach while providing more private domains for entertaining and personal habitation. The program is therefore organized in a vertical sequence of increasing privacy on three levels, with a double entry, guest room, entertainment room and parking on the ground level, living, dining, kitchen and second bedroom on two middle levels, and a master suite at the upper level for the most privacy and best view.
Solution
The experience of the building begins with a double entry that can be approached from two different directions, from the street by car or from the Strand and beach by foot. From these modest, low entries the spatial experience expands in an orchestrated sequence as one moves vertically up the stair. Arrival at each of the upper levels reveals spaces that are progressively more open and ever increasing in light and view. Each of the three levels extends outward on to terraces towards the ocean and the horizon beyond.
The heart of the house is a large volume containing the living areas, which are extended to the view through a gently sloping wall of glass. At the top of the stair, the master suite is contained below a longitudinal vault that defines a visual axis leading to a secluded bathing room at the rear of the dwelling. To the front of the building, a bridge extends to an observation platform that penetrates the window wall and is seemingly suspended above the beach below.
The elevations are a composition of solid, rectilinear elements that are strategically subtracted to reveal a contrasting, inner layer with sloping walls and cantilevered deck platforms that suggest the forms of nearby lifeguard towers.
Photography by Erhard Pfeiffer